In The Market for a $200,000+ Car? Here's Our List of Ultimate Dream Cars You Can Buy Today.
Updated: August 2016
Are you in the market for $200,000+ car? Are you thinking about luxury or sport or a combination of both? Maybe a two seat missile coupe or open top tourer? It is a lot to think about. Big decisions like this require some expert help. Ever since we published our Best Sports Sedans You Can Buy post, we've been inundated from readers to extend the recommended lists to other categories and price points.
There is a surprising amount of choice at this rarified level and the reality is that when you're looking at cars over 200 000 dollars, just about all of them are amazing. Clearly we are supercar fans so our list of the best $200,000+ cars you can buy has a bit of a sports car and performance angle to it.
We found a few luxury cars with every amenity you could imagine and performance to drag their 5,000-pound bodies to ludicrous speeds. Top down fun was easy to find with several jaw-dropping convertibles that give their sibling coupes a real run for their money.
Other Popular Lists: Best Sports Sedans You Can Buy Today
Uncompromisingly designed and unabashedly exclusive, the best $200,000+ cars also offer us a glimpse into the future of the auto industry, showcasing technologies and design elements that might soon make their way onto mainstream dealer lots.
Take a glimpse at our picks of the best cars you can buy today for more than $200,000.
Rolls Royce Dawn
Price: From $335,000. Available: Now
Does top down driving get any more special than this? The Rolls Royce Dawn has that unmistakably Rolls-Royce shape whether the roof is up or down and it is absolutely stunning. The four-seater has the best interior in the world.Banks of leather create a soft line, fusing inside and out. The interior is also a destination in itself. Crafted from wood and leather, the cabin is indulgent.
Dawn offers the perfect balance of considered sophistication and true freedom. The deck and rear are finished with handcrafted veneers that waterfall forward to meet the driver. Superior noise isolation, comparable to that enjoyed within a hardtop, lets you carry tranquillity with you.
Aston Martin DB11
A fearless design philosophy has led to the one of the most striking Aston Martin roadcars in recent history. The Aston Martin DB11 has iconic looks and continues the tradition of Aston Martin building some of the most beautiful cars on the planet. We love the striking new grille, the clamshell bonnet and the innovative Aston Martin Aeroblade. The interior of the DB11 is a beautiful private space too with natural materials, amazing craftsmanship and (finally) a state-of-the-art infotainment system. This is a place with comfort and convenience.
Under the bonnet, a new (powered by Mercedes) twin-turbo 5.2-liter V-12 makes a brutal 600 hp and 516 lb-ft. The gearbox is a paddle-shifted eight-speed automatic. Performance will be strong, with a 0-60 time expected in a brisk 3.9 seconds. A lightweight structure, torque-vectoring system, and stiff chassis result in impressively agile handling which is a good thing given the old DB9 struggled in that department. Expect all the trappings of a modern Aston when the DB11 hits showrooms in late 2016, starting at $214,820.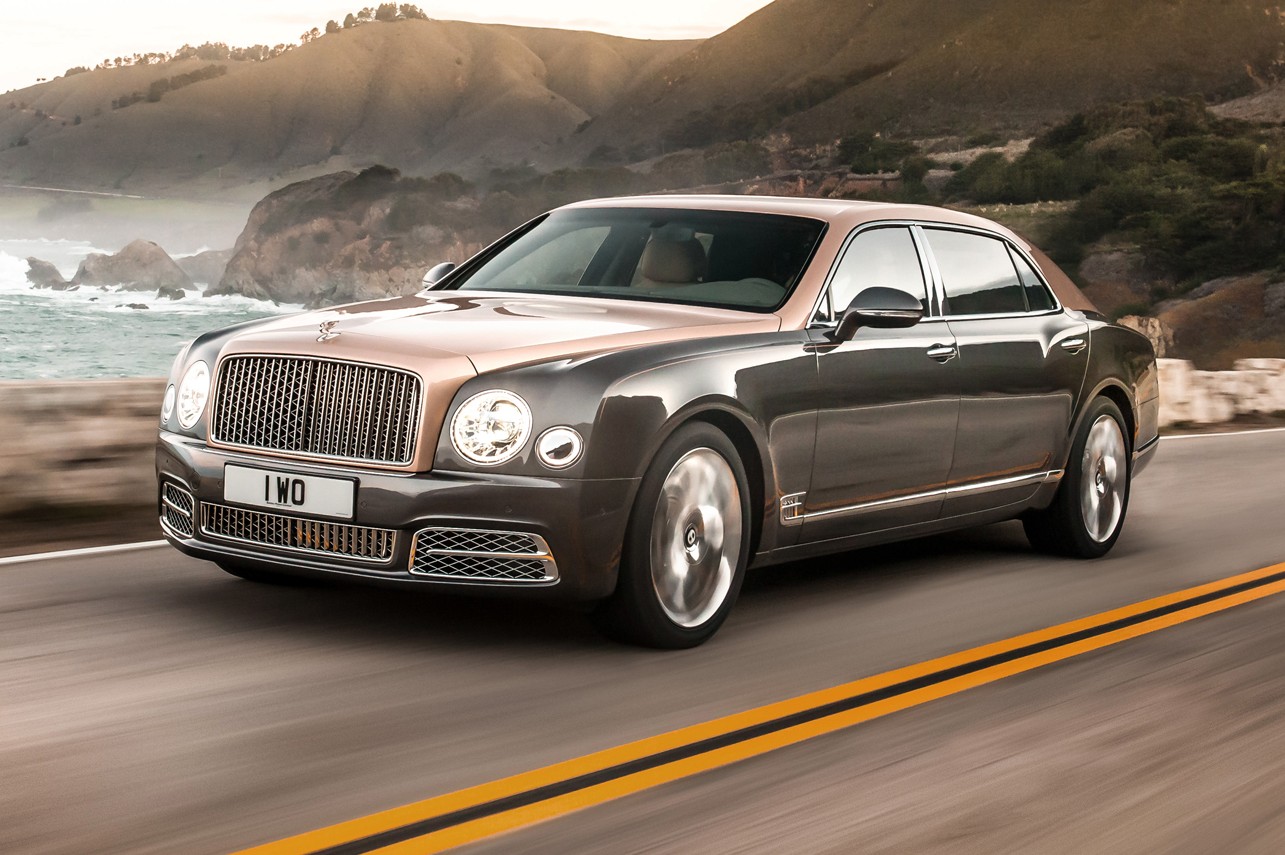 Bentley Mulsanne
A pure expression of exquisite luxury and phenomenal performance, the new Bentley Mulsanne represents the pinnacle of Bentley's design, craft and engineering skills. With a 6¾ litre, twin turbocharged V8 engine, 0 to 60 mph is dispatched in 5.1 seconds and top speed is 184 mph. Not bad for a big, heavy, luxury automobile.
The new Mulsanne has a new, front grille with vertical stainless steel vanes that look amazing. The effect is striking: the car appears wide, sleek and low, connecting it closely to the road. The front and rear feature sharp lines and superformed panels housing a sleek new headlamp configuration. Inside and out, you will find the finest craftsmanship in evidence, using authentic materials, thoughtful design and discreet technology to achieve the highest levels of luxury and style. This is the essence of the new Bentley Mulsanne: absolute luxury coupled with absolute power.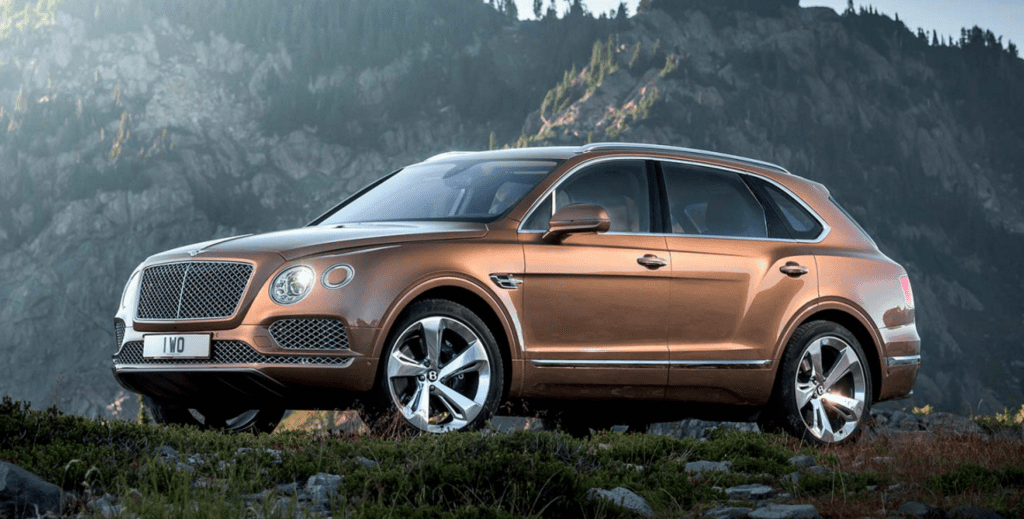 Bentley Bentayga
We know this is a big heavy SUV. We know it is blasphemous to include it in a list of top cars for a site that focuses on performance and sports cars. The reality is that if you're in the market for a luxurious car that has serious performance then the Bentley Bentayga is something to consider. Plus, if you're actually reading this supercar list as part of a serious process of buying anything here, then you can totally afford to also buy this Bentley to shuttle the family around.
For more than 95 years, Bentley has created exceptional automobiles in constant pursuit of the exquisite, the powerful and the individual. Now they are redefining the SUV in the form of the Bentayga. Bentley's SUV takes the class to a new level. Imposing and capable, Bentayga has been conceived and crafted to open up a realm of luxury and performance previously unattainable in an SUV. With innovation at its heart, it displays unprecedented power, speed and efficiency, setting new standards in the SUV sector.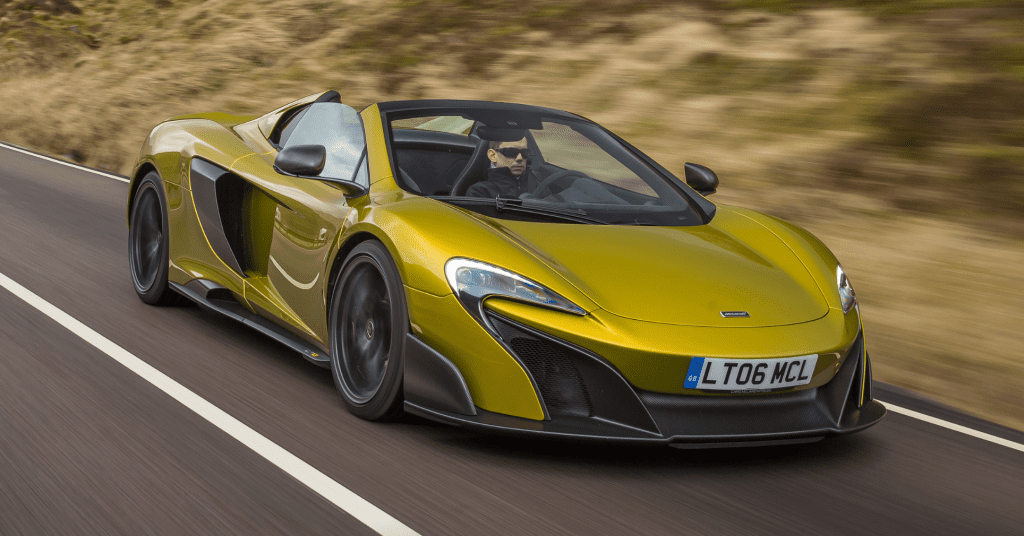 McLaren's 675 LT Spider
The next chapter in the illustrious history of the iconic McLaren 'Longtail' was unleashed as the new 675LT Spider. Only the second McLaren to ever wear the LT badge – after the sold-out 675LT Coupé – the 675LT Spider was been created in response to worldwide customer demand. This limited edition model, restricted to just 500 examples, mirrors the 675LT Coupé in its extensive use of lightweight components, enhanced aerodynamics, increased power, and track-focused dynamics. A retractable roof adds further excitement, making the new 675LT Spider the fastest, most focused and most exhilarating open-top McLaren ever.
At the heart of the 675LT Spider is a carbon fibre MonoCell chassis, while its soul is a heavily revised 3.8-litre twin turbo V8, guaranteeing performance worthy of the LT – or 'Longtail' – name. The 675LT Spider is only 40kg heavier than its Coupé sibling and shares the same twin-turbo V8 engine that produces an incredible 666bhp and 516lb ft of torque. The 675LT Spider accelerates from 0-62mph in 2.9 seconds while 124mph is achieved in just 8.1 seconds. If it isn't sold out yet, it will be soon. Buy one.

McLaren 650S Spider
Given the above McLaren's 675 LT Spider is likely to be sold out by the time you read this article, we wanted to have a backup option for you. Luckily McLaren has the mighty 650S Spider. A natural extension of the 12C, the 650S was what everybody wanted from McLaren in the first place.
The 650S badge designation refers to the power output – 650PS (641 bhp). Overall, it is the total packages. McLaren made improvement to handling, transmission, drivability and engagement. 0-60mph is over with in 3.0sec while the 0-100mph time is a blistering 5.7sec. What's so impressive about the 650S Spider is that it backs its titanic new levels of performance with such a mighty set of brakes and such a well rounded set of responses from its steering, gearbox and suspension that it never feels like it has too much poke for its own good. However fast it can go, it can stop, steer, and change gear every bit as well.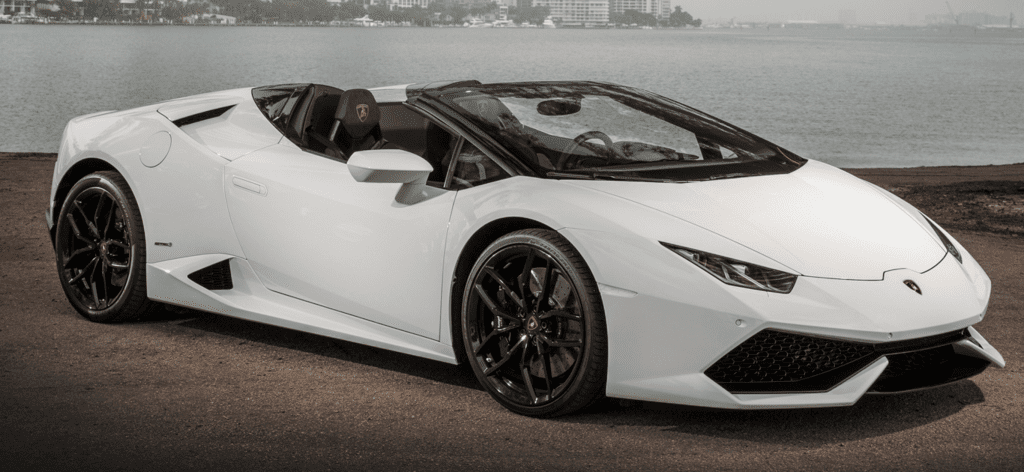 Lamborghini Huracan Spyder
Lamborghini's Huracán LP610-4 Spyder uses the same 602-hp 5.2-liter V-10 as the coupe, the same seven-speed dual-clutch automatic transmission, and the very same all-wheel-drive system. Lamborghini says the Huracán Spyder's aluminum and carbon-fiber chassis is 40 percent stiffer in torsion than the old Gallardo droptop (that's a very good thing).
The Huracán LP610-4 Spyder has the style and presence of the coupe with that much more sound and engagement. It looks incredible from any angle, sounds incredible across the entire rev range and offers more than enough performance to make you feel like you're truly getting your money's worth. It accelerates from 0 to 60 in 3.4 seconds and has a top speed of 201 mph all while grabbing attention everywhere you go. What else could you ever want?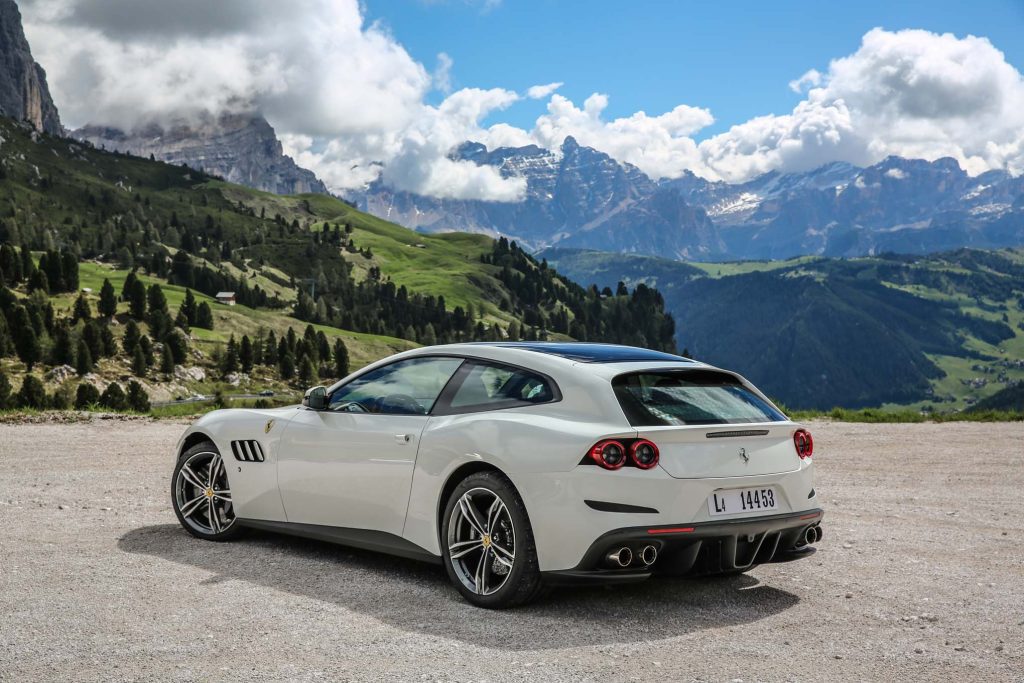 Ferrari GTC4 Lusso
Dubbed the GTC4 Lusso, this is basically the updated version of the Ferrari FF. The good news is that Ferrari didn't mess with much. The 6.3-liter V12 carries over but now produces 680 hp and 514 lb-ft. That's a marked improvement over the existing car. Ferrari clearly spent a lot of time on interior which now is much more luxurious than the FF. The four-wheel-steering system is the same as the one on the F12 tdf and makes the GTC4 Lusso much lighter on it's feet. On the outside, the FF shape was further refinement a more tapered shape that gives it an almost fastback-like silhouette. If you need four seats and need a Ferrari, this is one to buy.

Ferrari 488 GTB
This is the car we were worried about. After the epic Ferrari 458 we were all on edge when Ferrari told us they were switching to a turbocharged power unit for the 458 replacement. We needn't have worried because the 488GTB has a magnificent powertrain and a sublime chassis that is the best in its segment. Ferrari could have dropped the ball by turbocharging the 488 GTB, but it has achieved the complete opposite and produced an automotive masterpiece.

Lamborghini Huracan LP 580-2
Rarely does Lamborghini do less power, less weight and fewer driven wheels so when they do we pay attention. The Huracán LP580-2 removes the front diff (reducing weight by 73 pounds) and reduces total output from 602 hp to 572 hp. Peak torque falls to 398 lb-ft from 413 lb-ft. This is our favorite Huracan by far and we think it is fantastic to see a road-legal rear-drive Huracán in the lineup. Lamborghini does big power, naturally aspirated monsters better than anybody, but every now and again they show us they can do rear-drive, driver focused cars too.

Ferrari F12 Berlinetta
The F12berlinetta was launched in 2013, a time when naturally aspirated engines still ruled the performance world. In 2016, the F12berlinetta's 731 hp at 8,250 rpm is still out of this world output. With a healthy 80 percent of the maximum 508 lb-ft of torque available from merely 2,500 rpm, this naturally aspirated masterpiece of an engine is also remarkably flexible. The result is unparalleled performance with 0-62mph of 3.1 seconds and 0-124mph in 8.5 seconds (even Jeremy Clarkson said it was too powerful and too fast).
It is an astonishingly fast car in any gear on any road. It isn't just the performance either because the F12 looks the business too. We love the look of the F12 with its aggressive front end and those iconic flying buttresses. If you're looking for a front-engined, rear drive performance car with mighty performance and a screaming V12, this is the one for you.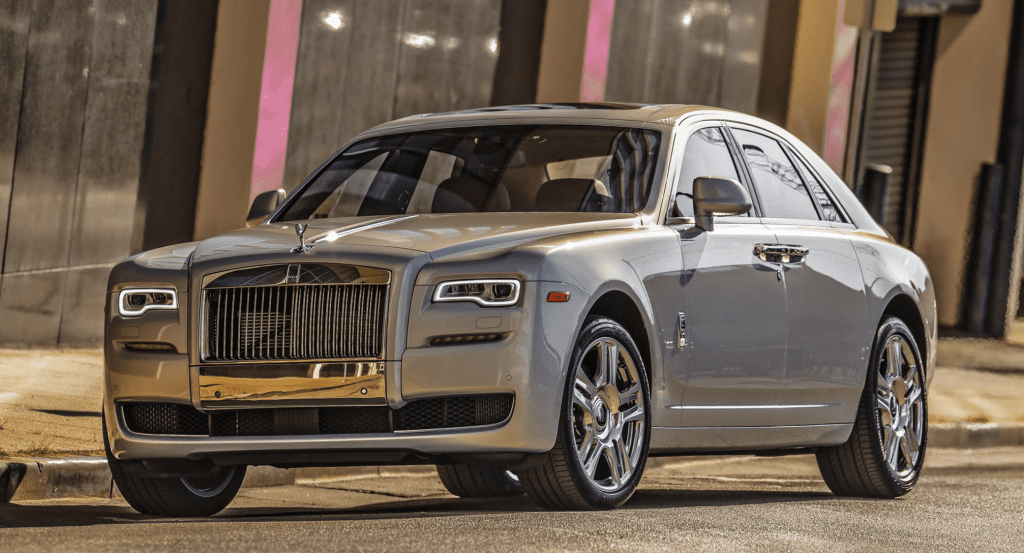 Rolls-Royce Ghost
Alive with cutting-edge technology, the Rolls-Royce Ghost is one of the most advanced cars ever built. The essence of simplicity with signature levels of luxury, Ghost forges a silent path with effortless power. This is a car that has some serious speed. It feels more like being pushed by a train than a jet engine pushing you a long. Smooth and silent progress is the recipe here.
Every detail is precisely engineered for an effortless driving experience: one that becomes intuitive as technology delivers more intelligence than ever before. But Ghost is about more than what lies beneath the bonnet. Bespoke is about more than a distinctive design. It's about bringing your vision to life – a vision only limited by your imagination. From the finest detailing to the most extravagant statements, collaborate with our Bespoke team and make your dream Ghost a reality.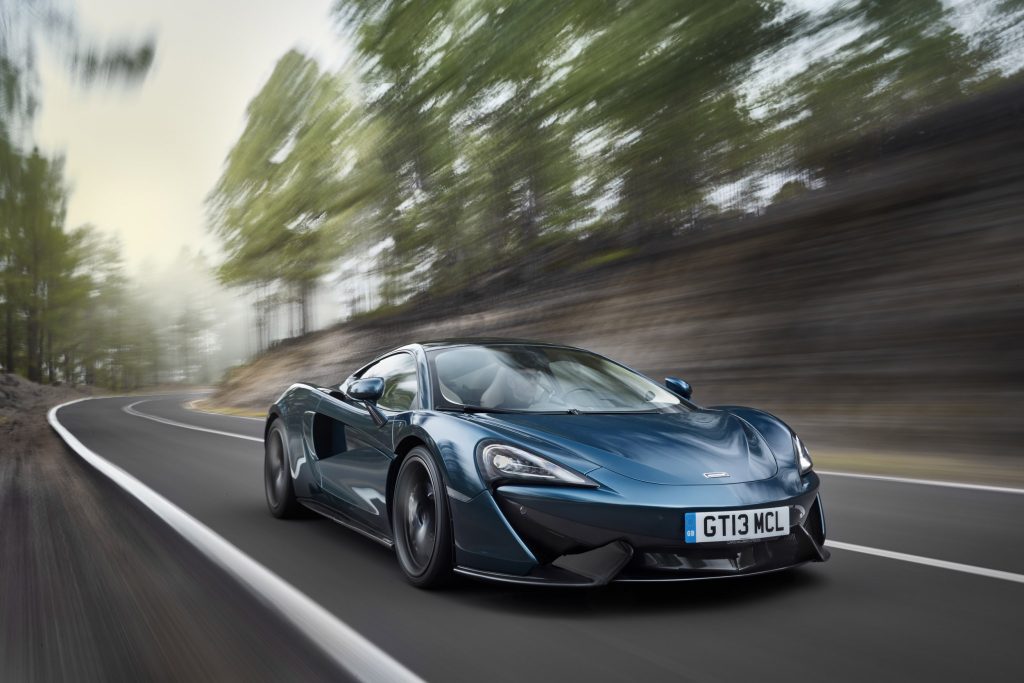 McLaren 570GT
McLaren has been on a roll lately, churning out one amazing machine after another. The run continues with the new McLaren 570GT, an amazing machine we highly recommend for people shopping in Porsche 911 Turbo S territory.
The 570GT adds extra comfort and practicality to breathtaking performance for a more refined, day to day driving experience. This is the car you buy if you want an everyday car with supercar performance and looks.
Unchanged is the carbon-fiber tub and the mid-mounted 3.8-liter, twin-turbo V8 that makes 562 horsepower and 443 lb-ft of torque. Also unchanged is the seven-speed, twin-clutch transmission driving the rear wheels. The 570GT borrows the quieter exhaust system from the 540C and has a small reduction in acceleration from the 570S model's 0-62 mph in 3.2 seconds to 3.4, and the 0–124 mph time from 9.5 to 9.8 seconds. Top speed, largely down to aerodynamics, is the same at 204 mph.

Bentley Flying Spur V8 S
Bentley focused on three key areas when they created the sporting V8 S: the look, the engine and drivability. They concentrated on tuning the formidable 4.0 litre V8 S twin-turbocharged engine to produce an improved torque level of 680Nm for improved acceleration, even at low revs. It propels the car to a top speed of 190 mph (306 km/h) effortlessly. The distinctive lines and curves, formed by innovative production techniques including superforming, accentuate Flying Spur V8 S's unique Bentley design DNA, making it instantly recognisable from any angle. Flying Spur V8's zero-to-60 time from a claimed 4.9 seconds to only 4.6 seconds, while top speed rises from 183 mph to 190 mph.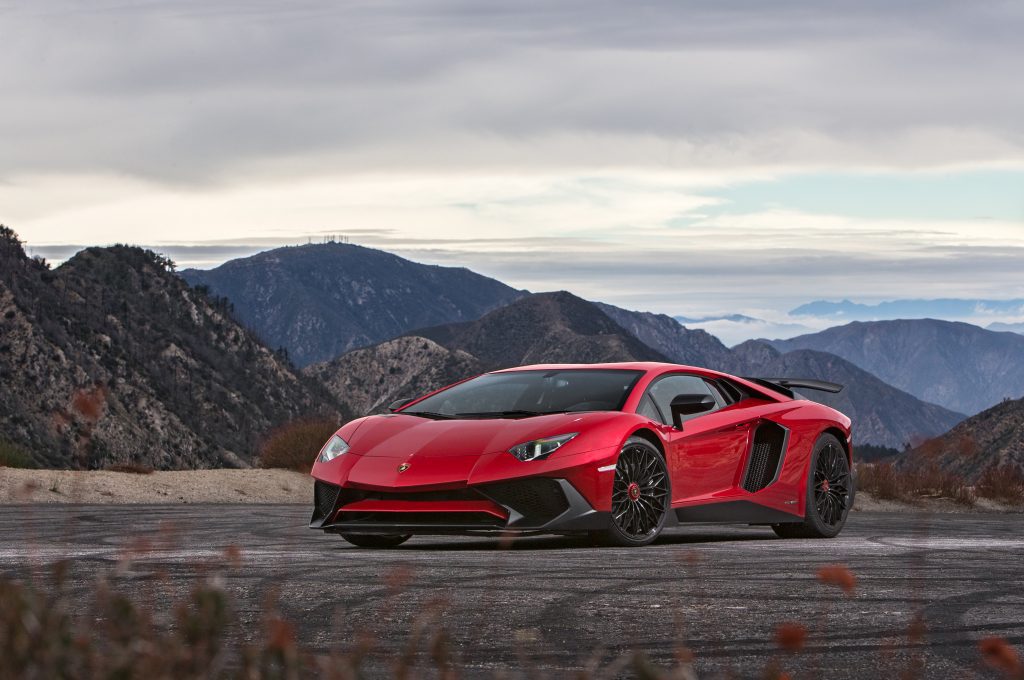 Lamborghini Aventador LP750 4 SV
Lamborghini builds some extreme machines but none more so than the current Superveloce. With a 6.5-liter naturally aspirated V12, this 740 hp, 509 lb-ft of torque monster will scare the bejesus out of you. Lamborghini is only building 600 examples of the SV, and most of them are already sold so you better be quick if you want to get one.
With aggressive looks and a screaming V12 engine that revs to 8500 rpm, this is the car to drive if you want to have it all.